XRP Ledger Market Cap Soars On Regulatory Success: 59% YTD…
The XRP Ledger (XRPL), a decentralized public blockchain developed by David Schwartz, CTO of Ripple Labs, has continued to evolve and show growth in the third quarter (Q3) of 2023, as highlighted in a recent report by Messari.
The XRPL, facilitating cross-currency and cross-border payments for over a decade, has witnessed significant milestones, including a surge in market capitalization and advancements in network features.
XRP Ledger Shows Strong Development In Q3
As of Q3 2023, XRP, the native token of the XRPL, has secured its position as the fifth-largest cryptocurrency by market capitalization at an impressive $27.8 billion.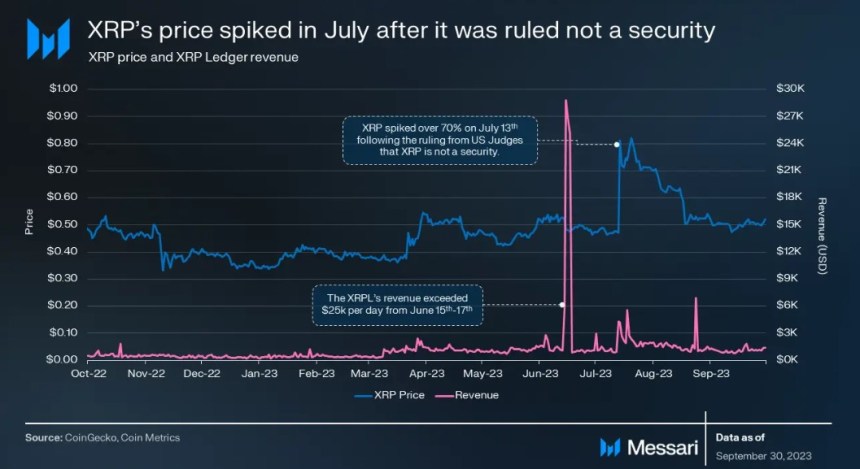 Notably, the token's market cap experienced remarkable growth, increasing by 59.9% year-to-date (YTD) and recording an 11.9% quarter-over-quarter (QoQ) surge. 
According to Messari, one unique aspect of the XRPL is the deflationary pressure applied to its total supply of 100 billion XRP. Transaction fees on the network are burned, reducing the supply over time. 
Since the inception of the XRP Ledger, approximately 10 million XRP have been burned. However, to counterbalance the burn rate, 1 billion XRP vests to Ripple each month. 
Unspent or undistributed XRP returns to escrow. This process will continue until the remaining ~48 billion XRP becomes liquid, making burned fees the sole factor influencing supply.
Unlike many other cryptocurrency networks, the XRPL does not provide rewards or transaction fees to its validators. Instead, validators are incentivized by supporting network decentralization, similar to full nodes on Ethereum (ETH) or Bitcoin (BTC). 
The Proof-Of-Authority (PoA) consensus algorithm relies on trust between nodes, organized through unique node lists (UNLs). This approach contributed to the network's resilience and security through 2023.
NFTs Thrive On XRPL With Notable Growth In Q3
In Q2 2023, XRPL experienced declining network activity metrics, including average daily transactions and active addresses. However, Q3 witnessed a resurgence, with average daily transactions reaching 1.06 million and active addresses totaling 44,000. 
In particular, NFT transactions showed significant growth, with average daily NFT transactions increasing 7.3% QoQ to 16,700.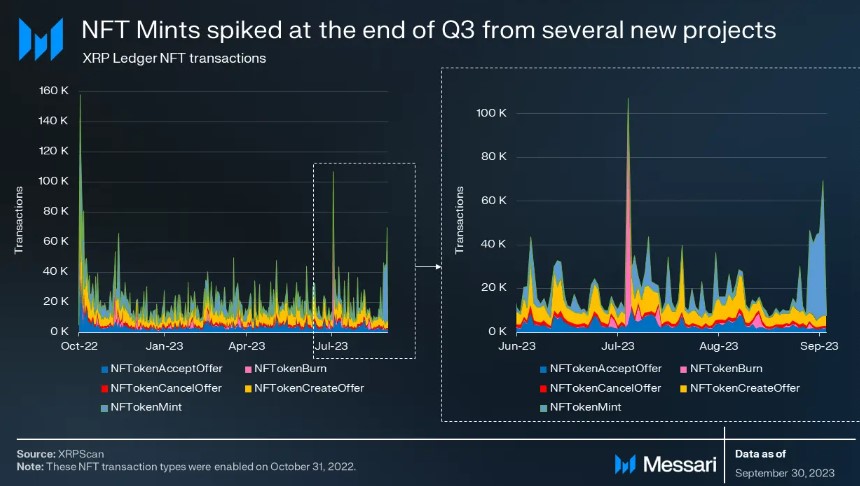 NFTs are built into the core protocol and do not require smart contracts for creation or transfers. Standardization of NFTs through XLS-20 2in October 2022 brought benefits such as royalties and anti-spam features. The XRPL ecosystem has grown steadily, with 3 million NFTs minted using the XLS-20 standard.
Overall, the XRP Ledger has demonstrated significant growth and development throughout Q3 2023, driven by market capitalization gains, regulatory victories, and advancements in network features. 
With a strong focus on deflationary dynamics, unique consensus algorithms, and the rise of NFT transactions, the XRPL continues to position itself as a prominent player in the world of cross-currency and cross-border payments, according to Messari. 
Conversely, XRP has demonstrated consistent gains across various time frames. Currently, the token is trading at $0.6073, which has not been reached since August 2023, resulting in a modest 0.4% profit within the 24 hours.
Notably, XRP has maintained an upward trend, delivering substantial returns of 10%, 24%, and 16% in the past seven, fourteen, and thirty-day time frames, respectively. Particularly noteworthy is the exceptional performance within the one-year time frame, where XRP has surged by 32%.
Featured image from Shutterstock, chart from TradingView.com