Whale Moving Large Stash Of Ethereum To Kraken, Prices…
Data from Lookonchain, a blockchain analytics platform, on October 20, shows that one Ethereum (ETH) whale is actively moving coins to Kraken, a crypto exchange, and appears to be selling. The unidentified whale deposited 35,176 ETH, worth over $56.5 million when writing, and withdrew $10 million in USDT hours later. USDT is the world's most liquid stablecoin, tracking the value of the USD. 
Ethereum Whale Selling On Kraken
Still, it is not immediately clear whether the whale ended up selling the whole stash and only choosing to withdraw $10 million. What's evident is that the unknown whale has been actively accumulating Ethereum for some years before deciding to take profit.
Looking at market trends, the whale appears to be taking profit and exiting. Often, when coins are moved to centralized crypto exchanges, market participants interpret the event as net bearish. This can impact sentiment, even forcing prices lower, especially if the broader crypto market is falling.
According to Lookonchain, the whale accumulated 35,176 ETH on Kraken at an average price of around $415. When the address chose to liquidate, its realized profit was approximately $41.8 million. Ethereum prices have more than quadrupled the average entry price at spot rates, meaning the whale remains "in green" despite recent market gyrations.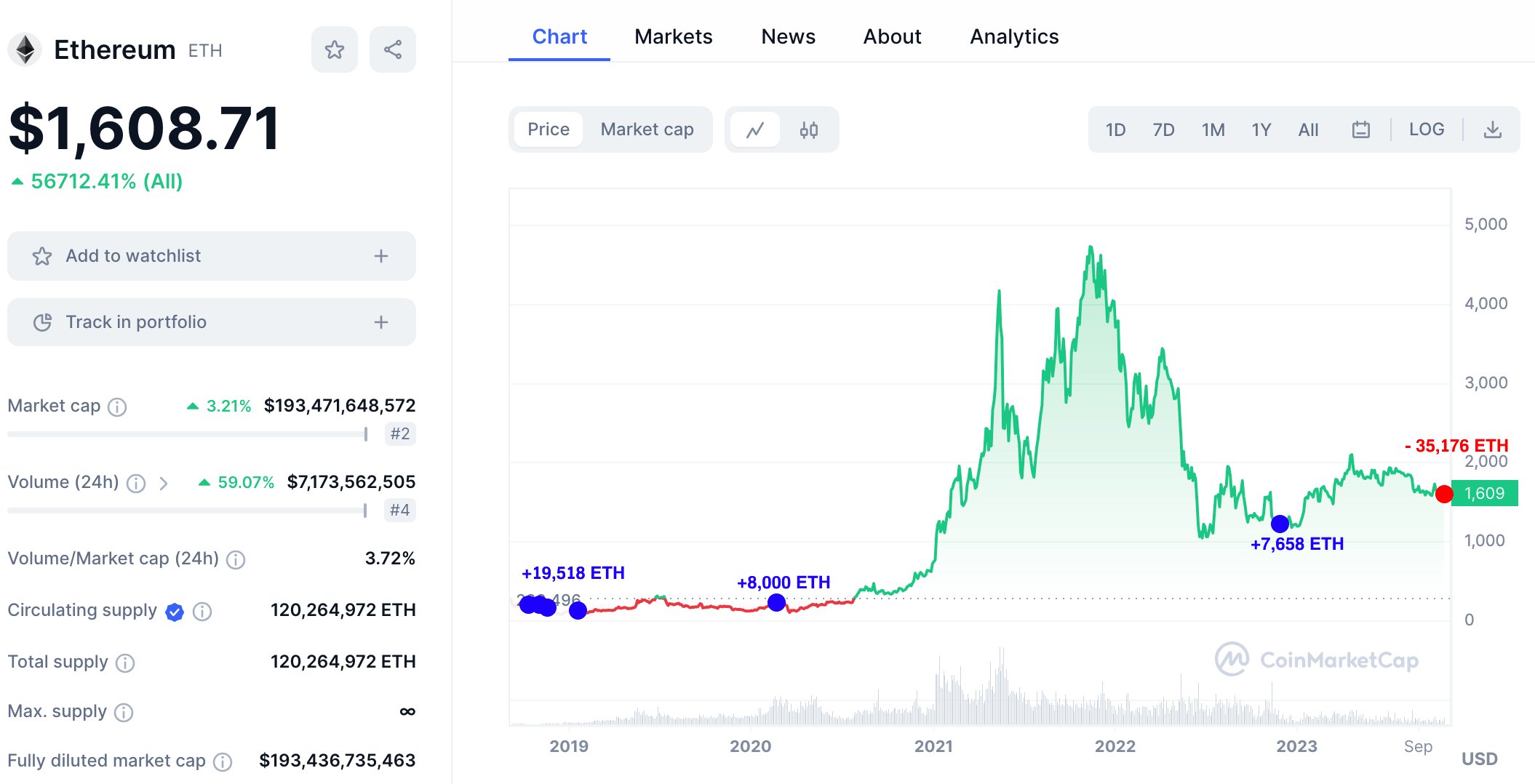 Since prices have been primarily dicey, moving horizontally and occasionally posting sharp falls, the whale might have chosen to exit. Even so, it could not be ascertained what motivated the ETH holder to sell when sentiment is overly improving across the crypto scene.
Presently, Ethereum traders are bullish, expecting prices to increase in the sessions ahead. Notably, as of October 20, prices were relatively firm and rising. To illustrate, Ethereum is up roughly 3%, and bulls are soaking selling pressure. At the same time, the coin is up 5% from October 2023 lows. 
Traders Bullish, Will ETH Clear $2,000?
Ethereum price charts show that the immediate resistance level in the medium term is at around $1,750, recorded in early October. On the flip side, support is at $1,530. A bullish breakout at the back of rising volumes pushing the coin above the resistance level may trigger more demand, propelling it toward the psychological $2,000 level.
In early October, the United States Securities and Exchange Commission (SEC) approved several Ethereum Futures Exchange-Traded Funds (ETFs), including VanEck Ethereum Strategy ETF (EFUT) and ProShares Ether Strategy ETF (EETH). Analysts interpreted this decision as a boost for ETH since it allowed institutions to have a regulated way of investing in Ethereum without necessarily having to buy and store the coins by themselves.
Feature image from Canva, chart from TradingView