TWT Token Registers 20% Gains As Crypto Market Slumps
Trust Wallet Token (TWT) seems untouched by the crypto market decline, holding a nearly 20% seven-day gain while top coins recede. After finding support at $0.79, it rallied above the $0.94 resistance, flipping it to a new support level today. 
The Trust Wallet Extension update on Chrome might be driving its price gains in the past week. Due to the update, users can now enjoy the full features of Trust Wallet integrated with their Chrome browser. Such ease of access may have boosted the use of TWT, thereby pushing its demand and price. 
Recent Network-Related Developments Can Push TWT's Price Further
The new Trust Wallet Extension update (V 1.9.1) on Chrome Store was announced on October 3. According to the announcement, users can enjoy native EVM swaps, Ledger and hardware support, and crypto purchases. 
Users can now access 15 different staking options across nine blockchains with the extension. This additional utility is likely driving more investors to the Trust Wallet ecosystem.  
Also, on October 5, Trust Wallet launched a Trust Wallet Testimonial Contest to reward its loyal community. According to a blog post, participants will share their testimonials and experiences using Trust Wallet. 
Trust Wallet will reward five lucky winners with mystery swag boxes once they complete certain tasks. This contest will likely boost investors' interest in the ecosystem and lead to price gains for TWT tokens. 
TWT Declining On Daily Chart Despite Weekly Gains
Despite impressive weekly gains, TWT shows signs of price decline on the daily chart. Its decline could correlate to the retracement in BTC's price from $28,000 to $27,770 today, October 9, at 5:36 am EST. After its rally from the $0.79 support level, TWT broke above the $0.94 resistance level.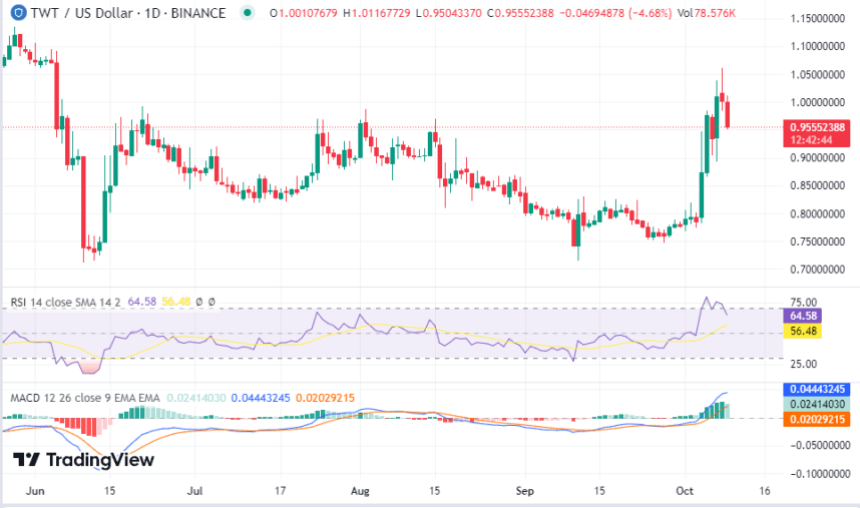 Looking at the daily chart, TWT has formed two consecutive red candles on the daily chart, confirming increased selling pressure. Also, today's candle drops below the trendline, hinting at a slight retracement ahead for the token. 
TWT is retracing in the Donchian Channel (DC) and approaching the Median Band. A drop below this band will confirm that the sellers have reclaimed dominance on its price. 
Furthermore, the Relative Strength Index (RSI) indicator displays a value of 64.5 in the buy zone close to 70. A close look at this indicator and its downward motion reveals that it is retracing from the overbought zone. The RSI's movement confirms the sentiment that the buyers are beginning to take profit and close long positions. 
Nevertheless, the price retracement for TWT will likely be brief due to its ecosystem developments. The daily chart analysis shows that TWT will likely decline to $0.94 in the next few days before resuming its rally. 
Also, the next rally may likely send TWT above the $1 resistance zone for more impressive gains. However, buyers must avoid bull traps if the $0.94 support level fails to hold. 
Featured image from Pixabay and chart from TradingView.com