FTX paid $100m in Chinese bribes to unfreeze $1b of…
Caroline Ellison, on day six of United States v Bankman-Fried, testified that FTX's founder continued to lie to the public while liquidity and assets dried up behind the scenes.
The second week of Bankman-Fried's fraud for fraud allegations set headlines ablaze as former Alameda Research boss Caroline Ellison accounts of "Sam coins" and FTT's importance in FTX's financial operations. 
FTT was not to fall below $1, Ellison said quoting Sam and discussing the token was a taboo outside of the inner circle which included Ellison herself, Gary Wang (CTO, Alameda/FTX), Nishan Singh (chief engineer, FTX/Alameda), and the FTX founder.
Ellison's testimony also threw aspersions on Alameda as a market maker for SBF's exchange, saying that the hedge fund only needed a maximum credit line of around $200 million for this role, according to InnerCityPress.
Instead, Alameda was furnished with a $65 billion line of credit and nigh-unlimited withdrawals from FTX customer balances, both Ellison and Wang have told in court.
Despite using FTX customer funds to plug holes and cushion losses, Alameda owed $3 billion on FTX and over $9 billion to lenders sometime in 2022, according to Ellison who kept spreadsheets of Alameda's alleged borrowing.
Multiple witnesses' testimony said Alameda cashed out billions in customer crypto to repay loans, fund expenses, and trade on rival exchanges like Binance for profits. This high-level trading strategy is known as arbitrage.
Prosecutors said at least two more persons would take the stand after Ellison. Zac Prince, BlockFi's chief executive officer was named in court as a witness. BlockFi had dealings with both SBF's companies involving massive loans and brokerage agreements.
Nishad Singh is also expected to take the stand during the proceedings. 
FTX users deposited $13b, Alameda "borrowed" $10b – Ellison
Presiding Judge Lewis A. Kaplan of the SDNY said a decision on including or excluding a $100 million investment in AI firm Anthropic would be issued after Ellison's testimony. 
AUSA Danielle Sassoon continued examining the former Alameda chief on the hedge fund's trading positions and recalled "open-term" loans from lenders such as Voyager and Genesis following significant declines in crypto market prices. 
This period was likely between May and August of 2022 after Terraform Labs imploded, crashing a bevy of crypto entities, such as Three Arrows Capital, in its wake.
Caroline recounted talks on Slack and Telegram about a $400 million loan repayment to Genesis, supposedly funded by Alameda's credit line on FTX user balances. Repaying loans this way was SBF's decision, by Ellison's account, which added that Wang and Singh were also privy to these conversations.
He [SBF] said to use Alameda's line of credit with FTX – that is, to use customers' funds. He knew that was the only way it could be repaid. Sam asked us to – Me, Gary, and Nishad.

Caroline Ellison, former Alameda Research CEO
Around this time, FTX customers had deposited $13 billion but only $3 billion was actually available for withdrawal on the crypto exchange. Alameda had "borrowed" the rest, according to the witness and repaid about $5 billion in loans. 
By then, Ellison said there were concerns about processing mass withdrawals. Alameda had withdrawn a vast amount of FTX customer crypto, including all of BRZ, a token pegged to Brazil's fiat currency real, said Caroline.
Yes, I thought it was wrong. We didn't find any new sources of capital. I continued to worry about FTX customers finding out and trying to withdraw all at once.

Caroline Ellison, former Alameda Research CEO
Seven balance sheets to rule them all
Ellison, in the Bahamas apartment mentioned by Adam Yedidia and Wang, spoke with Matt Ballensweig, head of leading at Genesis. Ballensweig requested Alameda's latest balance sheet but SBF instructed otherwise.
"Sam said don't send the balance sheet to Genesis… We thought Genesis might share the info," Ellison said adding that Alameda had issued $5 billion in loans to executives by this time. These loans likely included Ryan Salame's $35 million for republican donations and several hundreds of millions of dollars used for expensive purchases. FTX owned two private jets and multiple high-brow real estate.
He [SBF] told me to come up with alternative ways to present the information. He wanted me to conceal things on our balance sheet. So I prepared 7 different balance sheets. I did not want to be dishonest but I presented the alternatives to Sam and let him decide.

Caroline Ellison, former Alameda Research CEO
SBF allegedly chose a fabricated balance sheet with no disclosure of Alameda's $10 billion loan from FTX user accounts, presenting the firm as less risky to Genesis.
Despite objections from SBF's defense lawyers, Judge Kaplan allowed questions on Ellison's headspace during this period which was likely the final weeks and days of FTX. 
"I didn't feel good. If people found out, they would all try to withdraw from FTX," the witness responded to prosecutors. Ellison clarified that FTX did not have enough money to match all customer withdrawals. 
The witness said SBF approved $500 million in Genesis repayments, noting that the lender might collapse. Genesis filed for Chapter 11 protection in January 2023. 
Bankruptcy papers said the firm owed $3.4 billion to creditors after freezing withdrawals in November 2022, the same month FTX packed up shop.
At 11 a.m. ET, Judge Kaplan recessed the hearing for the jury's morning break at the Daniel Patrick Moynihan United States Courthouse, Manhattan.
On resumption. the witness told of cosmetic balance sheets sent to other lenders Celsius like BlockFi, whose CEO is a forthcoming witness in SBF's criminal trial. Celsius' former CEO Alex Mashinsky is also accused of defrauding customers and investors.
Responding to more questions and providing detailed context on Alameda/FTX's muddled operations, the witness said SBF's hedge fund had borrowed $13 billion from FTX customers by September 2022, two months before bankruptcy.
"I wrote, keep selling BTC if it's over $20K," Ellison read out in court referring to a conversation with SBFs amid frantic loan repayments to lending desks at BlockFi, Celsius, Genesis, and Voyager to name a few.
Prosecutors asked the witness about a bribery claim involving Chinese officials, Constance Wang, and David Ma. FTX/Alameda had $1 billion frozen by Beijing authorities amid a money laundering investigation per witness testimony and filings from the Department of Justice. 
Ellison said Ma offered a way out, by sending $100 million in cryptocurrencies to certain addresses. This happened in November 2021, per Caroline's telling, and the recipient was unknown to FTX or Alameda.
The witness then confirmed a spreadsheet entry that read "negative $150 million from the thing," Ellison added, referring to the Chinese bribery saga.
Witness examination moved to the summer and fall of 2022 as prosecutors questioned Ellison about Bankman-Fried's reaction to Alameda's $14 billion debt from gobbling customer crypto.
"Sam was screaming that it was my fault. But it was Sam who made all these investments that put us in this situation," she said to the court, adding that they were at the company apartment in New Albany. 
Ellison also claimed she advised for hedging, a stark contrast to the defense's opening statement which all but blamed the former Alameda chief executive for not hedging despite Sam's purported instructions to do so.
The witness also kept a real-time list of SBF's pressing agendas entitled "things Sam is freaking out about". FTX's founder was courting Saudi investors at the time, and lobbying regulators in the region to crack down on Binance, according to Ellison. 
Binance, FTX and a host of other crypto exchanges set their eyes on expansions in the Middle East seemingly spurred by regulatory uncertainty in the U.S.
Judge Kaplan recessed SBF's trial day six a second time around midday.
Road to Bankruptcy
Ellison reopened testimony by recounting SBF's investments in media houses like Forbes, Vox, Semafor, and crypto news sites, such as The Block. Michael McCaffrey, The Block CEO resigned in December 2022 due to undisclosed loans received from SBF.
The former hedge fund chief was also expected to maintain a more active social presence after Alameda co-CEO Sam Trabucco stepped back. Ellison detailed how they were told Michael Lewis would profile FTX in the Bahamas. Bankman-Fried was focused on building an "eccentric founder" public image, she said.
"Why did you make misleading statements to reporters?" AUSA Sassoon asked the witness. She responded:
I was saying things similar to what Sam had said in the past. But he was concerned about it… He was concerned about the CFTC, trying to get a futures license.

Caroline Ellison, former Alameda Research CEO
Following a lengthy sidebar, prosecutors asked about Alameda loans to executives including two entities namely Paper Bird and Guarding Against Pandemic which Ellison said made substantial political donations. 
SBF's hedge fund had $8.2 billion in personal loans on its books when Alameda's balance sheet leaked to the public. The financial statement understated Alameda's debts but failed to shroud FTT's facade, according to the witness.
Ellison, vacationing in Japan when the sheet leaked, flew to FTX's Hong Kong office by Nov. 6 and linked up to SBF's inner circle on the Signal group chat as FTT's price torpedoed south. Joseph Bankman, the FTX's founder's father, was notably a member of this online communication channel.
Witness testimony alleged that Bankman-Fried coerced Ellison to make misleading statements on social media amid a crypto bank run on the exchange. SBF, Wang, and Singh drafted tweets about off-book hedges and Ellison offered to buy all of Binance's FTT at $22. 
This was in response to a tweet from Binance CEO Changpeng 'CZ' Zhao, saying his exchange would liquidate $2 billion worth of FTT. CZ's tweet came shortly after Alameda's balance sheet leak. 
"I wanted to call his bluff… [CZ's] aim was to hurt FTX," said Ellison who was in constant communication with SBF, Wang, and Singh via Signal.
Bankman-Fried, per the witness, marched on with misleading tweets like "nodes can be slow" and indirectly fueled false hope around a non-existent FTX airdrop for steadfast users. In reality, FTX/Alameda held $2 billion at best in liquid assets by Nov. 7 and lenders were recalling loans.
FTX's founder told Ellison to contact investors like Sequoia and repay some loans, but not BlockFi per witness testimony. 
Anthropic moon bag excluded
Upon return, Ellison noted another $1.6 billion from FTX to Alameda hidden from auditors. The witness said they learned about this sum from Singh. Judge Kaplan overruled the defense's objection to Singh's mention.
Ellison closed her testimony under prosecution examination by reaffirming her guilt in FTX's collapse and her intention to "tell the truth".
SBF's lead defense lawyer Mark Cohen briefly cross-examined the witness as Judge Kaplan adjourned the court.
While jurors were excused, lawyers approached the bench to lay final arguments about the appreciated Anthropic investment worth around $1 billion from an initial $100 million capital infusion.
Judge Kaplan granted the government's motion to exclude it from evidence, saying that the trial was for fraud and not to determine if speculative investments paid off. The judge also denied a request for reconsideration filed by SBF's lawyers.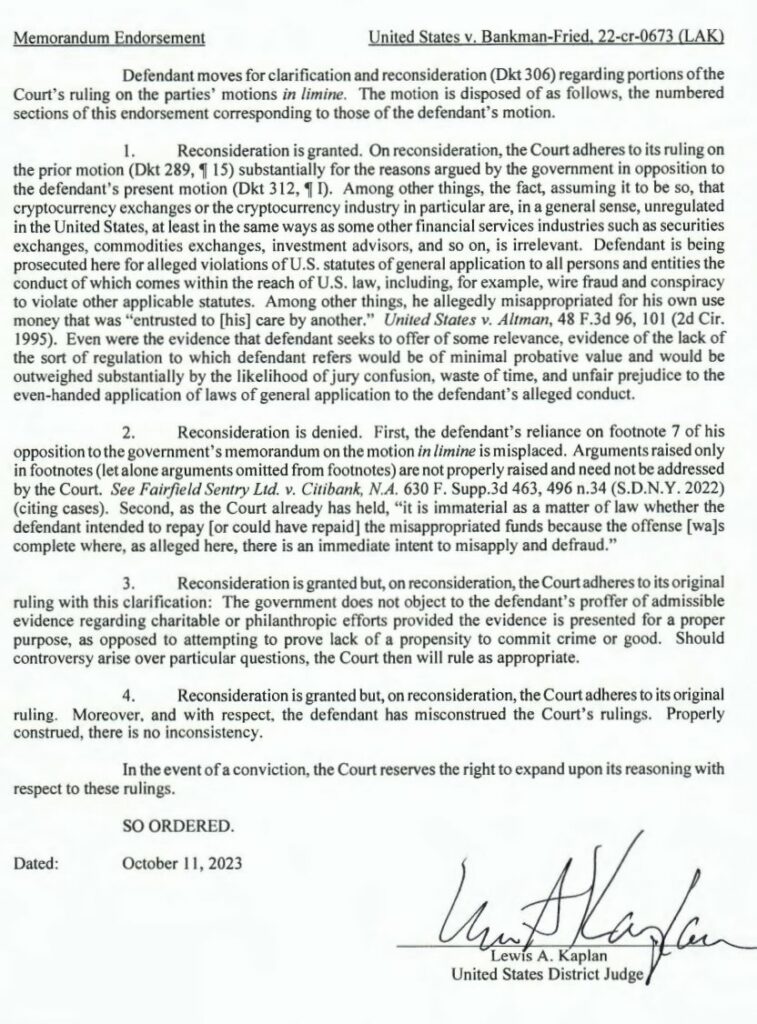 Follow Us on Google News