Cardano (ADA) Getting Ready To Explode: Analyst Presents…
Cardano (ADA) has been stuck in an accumulation zone for a couple of months now and has not seen the kind of run-up other large cryptocurrencies have experienced. This continued accumulation as well as trading in a very tight range could mean a very significant breakout when it finally happens and one crypto analyst has predicted an incredible surge along these lines.
Cardano Could See A 16,500% Surge
Tim Warren, one of the hosts of the Investing Broz show on Discord, took to X (formerly Twitter) to share a rather bullish Cardano chart. In the chart, Warren points out Cardano's previous price performance which has been nothing short of phenomenal.
As the chart shows, the ADA price had fallen around 98% from its prior all-time high which it had hit in 2018. By 2020, ADA's price was sitting as low as $0.018, but the imminent turnaround would take the entire market by surprise. ADA would go on to rally a total of 16,500% by the time it hit its new all-time high of $3.10 in 2021.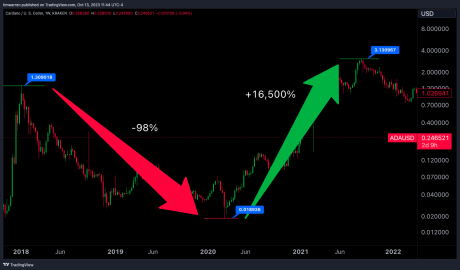 Chart shows 16,500% ADA rally | Source: X
Applying this historical performance to the current price level of ADA could suggest another such rally. Cardano's price is currently sitting around 92% below its all-time high, which puts it close to the same level it was back in 2020.
If ADA sticks to this historical performance and does a repeat, a 16,500% surge from the current price level would put the digital asset's price at $40 at its peak.
ADA continues to trade in a tight range | Source: ADAUSD on Tradingview.com
The Value Proposition Of ADA
Responding to Warren's post, another X user, Chris O chimes in with the value proposition of the digital asset. Chris, who is the founder of Ghost Fund DAO, a protocol on Cardano, explained that ADA's previous 16,500% surge had happened without having support for smart contracts and decentralized finance (DeFi), among others. But now that the network supports this, the founder believes this could trigger a large rise.
Chris points to the presence of DeFi, a rising Total Value Locked (TVL), non-fungible tokens (NFTs), and sidechains which are now prominent on the network. He also points out the various protocols which have been launched on the network across these different sectors.
#Cardano fam, simple chart showing FUTURE opportunity. Without SC, CNT's, Defi, $ADA did 165x from bear bottom.

Now with SC, Defi/booming TVL, NFT's, Projects such as @book_io, @CornucopiasGame, @Indigo_protocol, @IagonOfficial, etc…, along with Hydra, Marlowe, Mithril,… https://t.co/EChPO0SSLH

— Chris O (@TheOCcryptobro) October 14, 2023
As Chris points out, ADA had done a "165x from bear bottom" without Cardano having support for all of the sectors listed above. So he believes that "A 25x – 40x is a very reasonable expectation. Drown out the noise."
Related Reading: Meme Coins That Are Ripe For The Picking Following $3.2 Billion Crash
Chris referred to Warren's chart as a "simple chart showing FUTURE opportunity." However, if ADA were to make a repeat of its 2020-2021 rally, a 40x would only be the beginning for the digital asset.