BlackRock spot Bitcoin ETF added to NASDAQ's clearing agency
BlackRock's iShares Bitcoin Trust has been listed on the Depository Trust and Clearing Corporation (DTCC) amid staunch demand for an ETF within the crypto industry and broader financial markets.
The addition, although routine, highlights progress made with bringing a spot Bitcoin (BTC) ETF to U.S. markets for the first time. DTCC is the clearing house for NASDAQ trading according to ETF expert Eric Balchunas.
Additionally, the listing on DTCC confirmed that BlackRock's BTC fund will trade under the ticker IBTC. It is also the first spot Bitcoin ETF out of a dozen applications submitted since June 15 to appear on DTCC's list. 
In an amendment made to its filing with the U.S. Securities and Exchange Commission (SEC), BlackRock reportedly disclosed the seeding schedule slated to begin in October 2023. 
Seeding refers to an ETF's initial funding geared toward day-one trading. Bloomberg's Balchunas noted that this amount is typically moderate. 
SEC Chair Gary Gensler and his securities watchdog remain at the forefront of ETF conversations as the federal agency continued its application assessment, per a crypto.news report on Oct. 19.
BTC prices previously surged beyond $30,000 on the back of an unconfirmed ETF approval announcement from crypto news site Cointelegraph. 
While Bitcoin retraced shortly after the news was debunked, TradingView data showed that the crypto token had regained its price position above $31,000 at press time.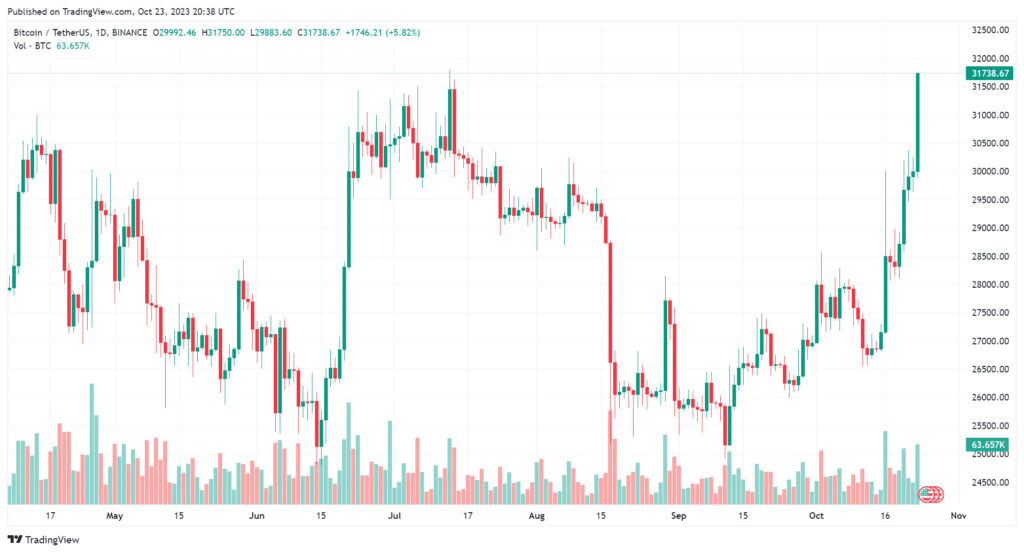 Indeed, BTC's market price was up 5 percent on Oct. 23 following a week-long rally and final formalities in the SEC v Grayscale case. The U.S. Court of Appeals for the D.C. Circuit published its mandate reaffirming its ruling which compels the SEC to reconsider Grayscales filing for a spot Bitcoin ETF. 
Grayscale's victory in its bid to convert its Bitcoin Trust or GBTC into a Bitcoin ETF is widely regarded as a boon to ETF proponents. The company also filed a new application after urging the SEC to approve its punt in the race to list America's first spot Bitcoin ETF.
Follow Us on Google News