Bitcoin To $3 Million Is "A 100X From Today", And You Are…
Luke Bryoles, a Bitcoin advocate who thinks the world's most valuable network will save people's energy, is bullish. On October 30, Bryoles said the coin could rally to $3 million, and all it needs is to be "100X from today." For this reason, the crypto supporter thinks users engaging with the coin are "still early."
Is This The BTC Road To $3 Million?
The Bitcoin defender said the coin has "indescribable future value," especially compared to other centralized finance (CeFi) market metrics like market capitalization. Bitcoin is changing hands at around 2023 highs, trading above the $34,500 level, with traders and coin holders expecting more gains.
The expansion of last week saw the coin extend gains, lifting higher above the $32,000 level recorded in July. Considering the associated trading volume and resulting activity following the BTC jump, more supporters expect another rally in the next few sessions. 
Bitcoin is down 50% from the November 2021 peak, when prices surged to approximately $70,000. However, the coin has more than doubled after dropping to as low as $16,000 in November 2022. At spot rates, BTC has more than 100% from 2022 lows, emerging as "one of the top-performing assets."
This stellar performance, Bryoles adds, is despite Bitcoin maintaining a market cap of around $500 billion in 2023 while remaining "TINY in comparison to the world's largest asset classes," most of which include debt, equities, and gold.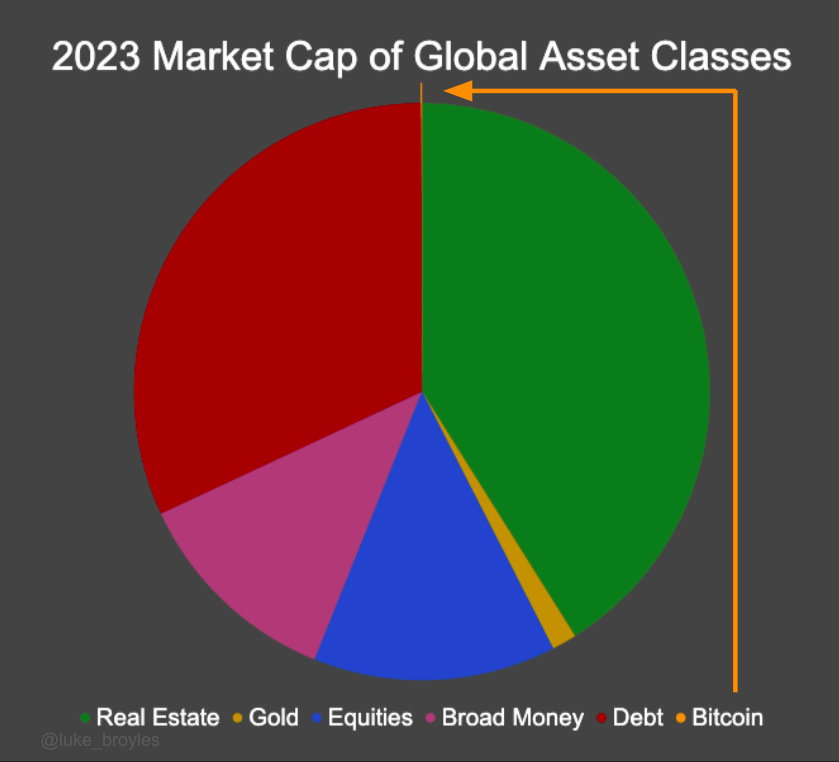 To support the hyperbolic prediction, the supporter pointed to the low Bitcoin adoption level of "0.05% and 0.5%." An eventual increase to 10% means there will be 100X users, easily driving the coin to $3 million, though even this remains a "misleadingly pessimistic prediction," according to Bryoles.
At this valuation, the analyst added that the coin's market cap will be "unfathomable." Even so, all that is required is "4% of the global adult population to demand 1 million sats to exhaust exchanges."
Bitcoin Finds Support And Opposition: Will Bulls Win?
Bitcoin remains the world's most valuable crypto asset. At the same time, the United States Securities and Exchange Commission (SEC) might authorize the first spot Bitcoin Exchange-Traded Fund (ETF). Analysts expect this to drive prices towards the 2021 high at around $69,000. 
Meanwhile, Federal Reserve's Jerome Powell and SEC's Gary Gensler think the coin is a "speculative asset." These sentiments have also been shared by Senator Elizabeth Warren, who once said, "Bitcoin is a scam."
Feature image from Canva, chart from TradingView