Bitcoin Reserves On Exchanges Approaching A 6-Year Low, Good…
Bitcoin (BTC) held by leading crypto exchanges like Coinbase, Binance, and Kraken are near a six-year low, CryptoQuant data on September 20 reveals.
The contraction was recorded when the broader market steadied after posting sharp losses in the better part of August and the first half of September. As of September 20, BTC prices are still below $30,000, but with important sideways movement over the past few weeks.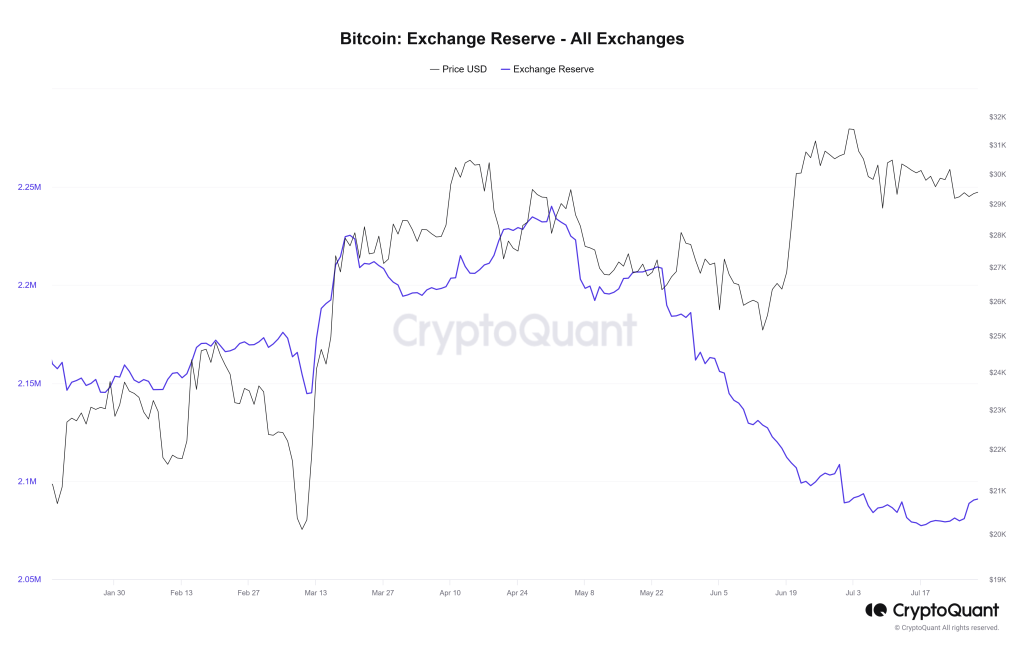 Bitcoin Reserves On Exchanges Falling 
According to trackers, exchanges control 2.09 million BTC when writing. In total, the Bitcoin network will issue 21 million coins.
However, as of 2023, over 19.7 million are in circulation, and public firms such as Tesla—the electric car automaker—and MicroStrategy—the business intelligence firm—have been loading up. Generally, entities can hold cryptocurrencies in non-custodial wallets or exchanges like Binance or Coinbase.
Exchanges offer custodial wallets where users can store their coins to trade or even HODL. Users who hold their coins on exchanges can easily swap them for USDT or other altcoins. As mentioned, the number of coins held in exchanges continues to contract—which, while on the surface can be bullish, doesn't necessarily mean prices will recover.
Typically, coin outflows from exchanges can signal a firming market and expectation of price expansion. However, considering the current regulatory environment, traders and Bitcoin holders might prefer taking control of their coins as fear sets in.
Accordingly, more holders secure their coins in their non-custodial wallets as a protective measure, possibly explaining the dropping Bitcoin exchange reserves.
SEC, Regulators Tough On Exchanges
The number of Bitcoin held in exchanges has been falling throughout 2022 but appeared to have dropped faster in late 2022. Around that time, FTX, a popular crypto exchange, collapsed, locking billions worth of clients' funds. 
Outflow slowed down in Q1 2023 following the collapse of some regional banks in the United States but has since continued falling. The dip can be attributed to the bear market but primarily because the United States Securities and Exchange Commission (SEC) is cracking the whip on Binance and Coinbase, accusing them of non-compliance.
In June, Binance and Coinbase were sued by the SEC. The regulator claimed that the two exchanges were issuing unregistered securities, citing some, like Cardano (ADA), as examples.
Amid this crackdown, Binance US became a focal point. Since then, there have been major staff resignations, layoffs, and disruption of operations. Trading volume in Binance US is now down by over 95%. 
Feature image from Canva, chart from TradingView