Bitcoin Price Surges 7% In 10 Minutes On Fake iShares ETF…
Bitcoin price just made one of its most volatile moves in some time on the back of what has amounted to be fake news regarding the approval of the BlackRock iShares spot BTC ETF.
Within seconds of a fake X post, BTCUSD surged by over 7% in ten minutes – only to retrace the entire rally and then some.
Bitcoin Price Rejected As iShares ETF News Revealed To Be False
No, BlackRock's iShares spot Bitcoin ETF has not been approved. But that's what was just making waves around social media, especially Elon Musk's X platform.
Within the ten minutes following the phony report from CoinTelegraph, BTCUSD soared by more than 7%  and almost $2,000. The top cryptocurrency by market cap, however, was stopped at $30,000 and rejected all the way back down to below $28,000 in the following fifteen minutes once the news was disproven.
Fox Business journalist Eleanor Terrett claims to have spoken to a representative for BlackRock directly, who confirmed that the iShares application is still under review with the United States SEC. CoinTelegraph has since deleted the tweet (pictured below).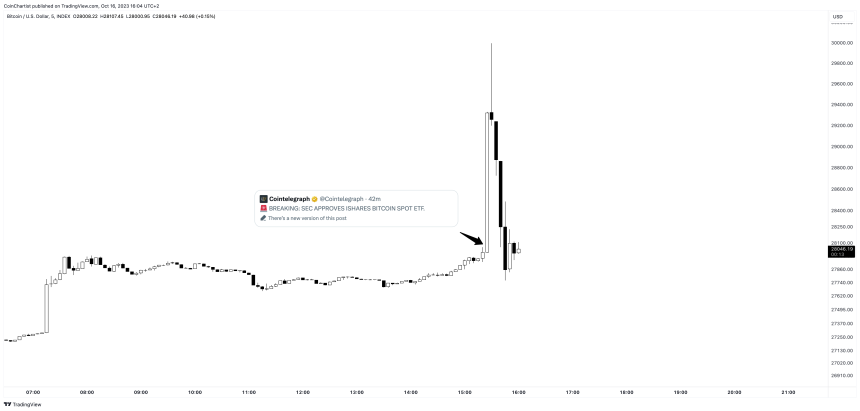 A massive 25 minute pump and dump | BTCUSD on TradingView.com
The situation shows that the market has serious pent up energy that is ready to release the moment a spot ETF is approved. But it also could demonstrate to the SEC exactly why a spot ETF shouldn't be approved when crypto prices are subject to such blatant manipulation through the media.
While a spot ETF is inevitable at this point, today's news has now repeatedly been confirmed to be false.