Bitcoin price hammered, cryptocurrencies fall with tech…
Cryptocurrency prices are falling and there may be problems with market liquidity, especially for tech companies, and risk assets.
Bitcoin and the crypto marker is under heavy selling pressure as the liquidity concerns that ended Silvergate bank may be spreading to the wider tech sector.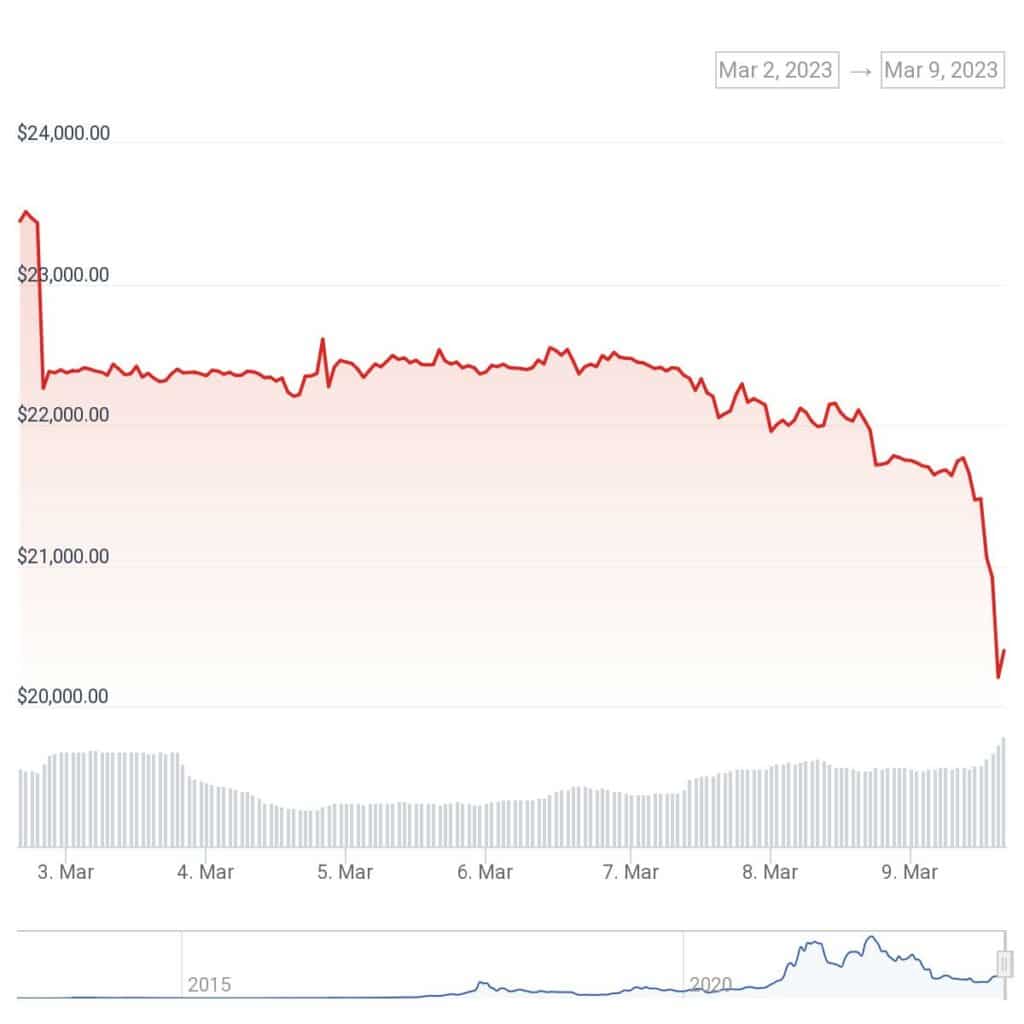 Bitcoin has lost the $20,500 level and is falling fast. Over the past 24 hours, BTC has fallen by more than 7%. While the failure of Silvergate capital is likely weighing on the markets, there may be larger forces in play.
A wider liquidity shortage may be here
Silicon Valley Bank (SVB) has come under pressure, and the bank's CEO has spoken out on the matter. The bank may be facing a liquidity crunch, but there is little information at the moment about the matter.
"I would ask everyone to stay calm and to support us just like we supported you during the challenging times (the bank has) ample liquidity to support our clients with one exception: If everyone is telling each other SVB is in trouble that would be a challenge."

Greg Becker, SVB CEO.
Silicon Valley Bank works with startups in the tech-heavy mecca of Silicon Valley. Many small tech companies are facing pressure, and this lack of liquidity could be spilling over into the crypto market.
Shares in SVB have fallen sharply, which is more or less the same situation that Silvergate faced. If the shares in SVB continue to fall, the bank may face solvency concerns.
A shallow market
While U.S. capital markets are deep, the smaller end of the banking sector doesn't have the same kind of access to liquidity that the money center banks do. For the moment, the weakness if crypto prices could be the result of the Silvergate collapse, but if there is a new liquidity crunch, prices will likely head lower into the weekend.
Follow Us on Google News