Binance Saw $200M Bitcoin Inflows As BTC Fell Below $27,000
On-chain data shows Binance observed Bitcoin inflows of almost $200 million a couple of days back as BTC saw its plunge below $27,000.
Binance Has Recently Received Large Bitcoin Deposits
As pointed out by analyst James V. Straten in a post on X, inflows have recently occurred on the cryptocurrency exchange Binance. The relevant indicator here is the "exchange netflow volume," which keeps track of the net amount of Bitcoin entering into or exiting the wallets of a given centralized exchange.
When the value of this metric is negative, it means that the exchange is seeing outflows of a net number of coins right now. As investors generally withdraw their coins from platforms like these to hold onto them for extended periods in self-custodial wallets, this kind of trend can be bullish for the price.
On the other hand, the indicator being positive implies the holders are making net deposits to the platform currently. These inflows may be occurring for selling, so the metric having such a value can sometimes foreshadow a bearish outcome for the asset.
Now, here is a chart that shows the trend in the Bitcoin exchange netflow volume for Binance over the past month: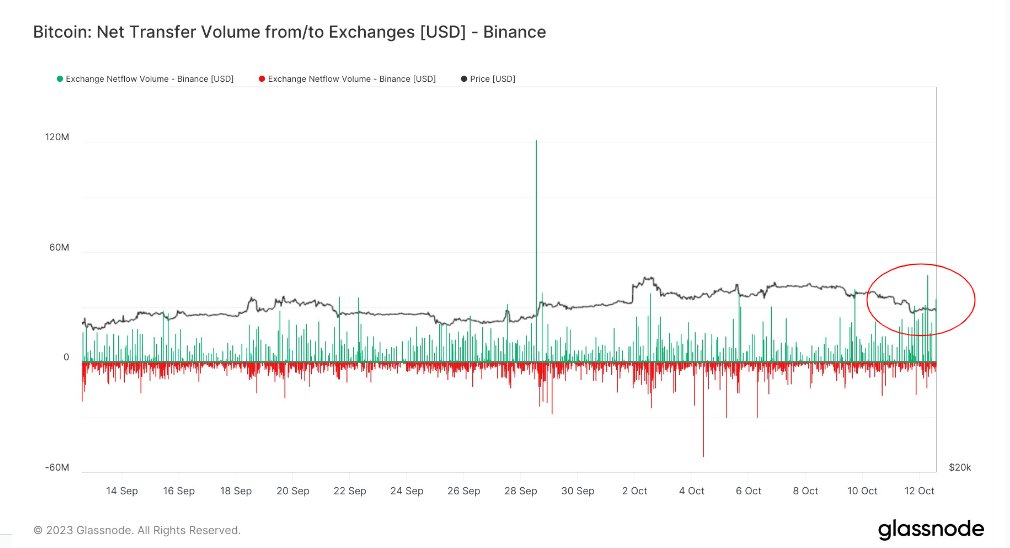 The value of the metric seems to have been positive in recent days | Source: @jimmyvs24 on X
As displayed in the above graph, the Binance Bitcoin exchange netflow has registered some positive spikes during the past few days. Straten notes that a couple of days back, the exchange saw a particularly large BTC inflow of almost $200 million.
Interestingly, on the same day as those deposits, BTC had registered its decline below the $27,000 level. Thus, it's possible that those large inflows had been signs of dumping.
As the analyst has highlighted in the graph, it would appear that inflows have once again started to ramp up on Binance during the past day. It's currently unclear what the intent behind these new deposits may be, as they have been made while BTC has already been trading around its lows.
They could be from panic sellers who believe that more decline is ahead, so they are trying to exit here to at least avoid any further losses, or perhaps, they may be for other purposes, like opening new positions on the futures market.
From the chart, it's visible that spikes in the indicator haven't always been bearish for the price, as those particular instances may have seen inflows for other reasons.
It now remains to be seen whether these latest inflows will also turn out to be bearish like those from two days back, or if they would be neutral for the market, like the few occurrences already seen in the past month.
BTC Price
Bitcoin has been unable to make any recovery since its latest drawdown as the asset is still trading around the $26,800 mark.
Looks like BTC has been trading sideways since its plunge | Source: BTCUSD on TradingView
Featured image from Shutterstock.com, charts from TradingView.com, Glassnode.com