6 Weeks After Launching, Base Layer-2 Bridge Is Processing…
Roughly six weeks after Base, the layer-2 scaling solution backed by Coinbase, was launched, its bridge is now the seventh most active, looking at transaction count. DeFiLlama data on September 21 reveals that the Ethereum-Base bridge had posted 2090 transactions.
This is more than those registered by the Ethereum—Arbitrum and Polygon zkEVM bridges, which had 1,642 and 860 transactions, respectively.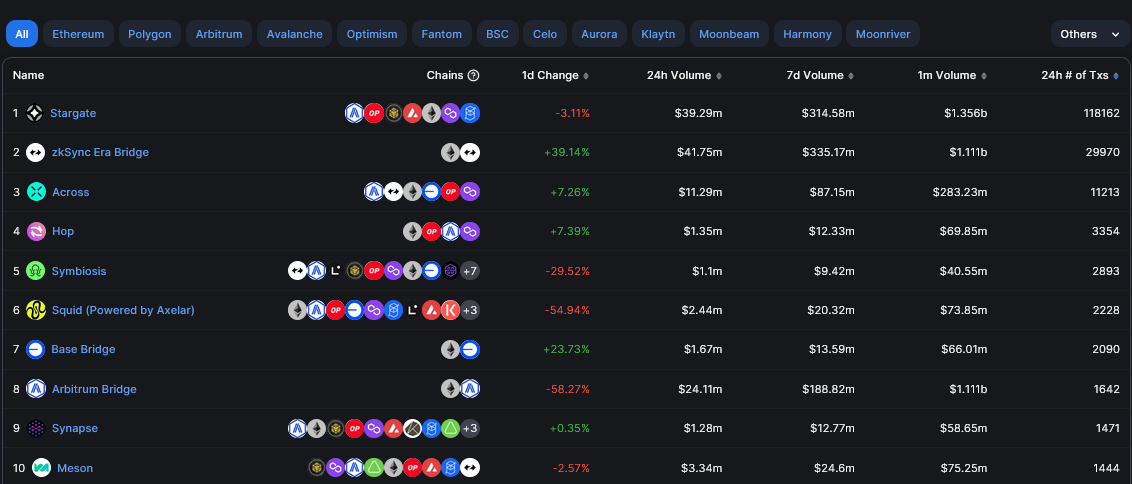 Base Rise To Prominence, Stargate The Most Active Bridge
Although the expansion in transaction count in the Ethereum to Base Bridge is notable, it pales compared to that processed by the zkSync Era Bridge. When writing, the bridge—which only connects to Ethereum—had processed 29,970 transactions, more than 14X that in the Ethereum to Base bridge. 
The Stargate Bridge, which connects to multiple blockchains and layer-2 platforms, including Solana, Polygon, Avalanche, and BNB Chain, tops the chart, ranked by the number of transactions processed. At press time, Stargate had processed over 118,000 transactions.
The rise to prominence of Base is noteworthy considering the timing of its launch and how it has to compete with other established layer-2 networks, including Arbitrum and OP Mainnet, formerly Optimism.
While Ethereum remains the most popular smart contract platform whose native currency is the second most valuable only after Bitcoin (BTC), the base layer is struggling with scalability. 
At peak, the platform can only process roughly 15 transactions every second (TPS). Despite the overhaul of its gas-paying model, transaction fees remain the highest in the sphere, forcing developers to seek solutions.
Scaling Ethereum: Layer-2 Solutions Are Popular
Ethereum developers have proposed several means of scaling the mainnet. Though other solutions, including sharding, where the network will be fragmented into sections called "shards," which work independently but are connected for security reasons, layer-2 solutions have been gaining traction. 
Most platforms are working to create solutions anchoring on the rollup model where transactions have been routed off-chain before being settled on the mainnet. Besides layer-2 options, Polygon has succeeded as a fully compatible sidechain with Ethereum. 
Data from L2Beat, a tracker for layer-2 solutions for Ethereum, shows that Arbitrum and OP Mainnet, two of the top general-purpose or universal platforms enabling the deployment of protocols, including those in decentralized finance (DeFi), are the most popular.

To quantify, Arbitrum One has a total value locked (TVL) of $5.6 billion, while OP Mainnet has $5.28 billion. Notably, Base's TVL has soared to be the third-largest at $530 million despite its recent launch. It currently anchors Friend.tech, a decentralized social media platform.
Feature image from Canva, chart from TradingView